1981:
As his music goes through changes, so does he. After, "Polaroids," and its attendant traumas, he puts less emphasis on sartorial quality, still sporting the odd St. Laurent scarf but mixing it with bargain bin leathers. The hair and make-up are still in place, but he professes to not worry about his looks fading:
"Why worry? Young faces are so bland. A face with lots of lines, experience, that's far more interesting."
Those outside the Japan Circle feel they can't really communicate with him, that the gaps in conversations say more about him than the maze of contradictions thrown up by his comments. "I'm always introverted," he says, "but the public can see the real me -- it's in the music. I don't hide anything, it's all on those records."
But still the analysis goes on. One live review remarks: "Sylvian remains the greatest enigma. An image, not a man -- ersatz soul, and a romance you feel he's never actually experienced."
But David's not the intense, humorless character that some of his interviews may lead people to expect. Introspective, certainly, but with a gentle wit and easy going manner -- when he's feeling relaxed about his work.
He's never been one to enjoy life on the road, unless he is in Japan, the country he is becoming more and more influenced by and fond of. He enjoys the stress of travel, and the new stimuli picked up from it. But touring the UK is, for him, a different matter:
"I don't take live shows that seriously, not until I do something I'm really happy with, but I think it's just going through the motions...I really would like to spend all my time in the studios. I really don't like touring, you feel you're wasting something, projects aren't being carried through.
I love traveling, but the touring aspect of being in a band I find totally boring. I'd just like to walk from studio to studio. I love playing live but I don't like performing, because I don't see myself as a performer. I don't think I have anything to give in that sense."
Around the time of, "Art of Parties," he appears to be moving back towards his roots -- Motown was the music most played in the Batt household. He discusses some of his influences:
"Whatever music you're brought up on, you always get back to it. I always thought we were very lucky to pick up on black music first -- most people of or age picked up on the glam rock thing, Bolan and all. We like that too, but because black music came first, that's what we resort to."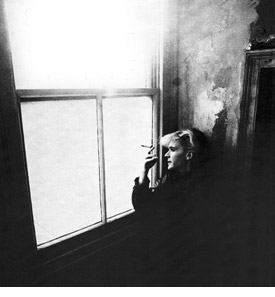 Photo by Fin Costello.
The mood musak angle still fascinates him, though:
"I was influenced an awful lot by Satie, but I've milked him dry after, 'Nightporter.' People like Satie and Warhol influenced me a lot, but I don't really like their art that much, just the ideas behind it. I adopt their ideas and apply it to my work. Somehow their ideas don't work out quite right, So i do it my way, to make up for the fact they didn't do it right!
It's the same with classical music -- there's something I still want to do with it. I don't really like it, there's just certain aspects which I do like, so I'd like to do a piece of classical music which I've always wanted to hear but has never been written."
He is becoming more interested in solo projects as he is perfecting his studio techniques. After, "Polaroids," he says:
"There's lots of things I'd like to do, but I won't waste a Japan album doing it. I'll do it probably as a solo project, which I haven't been able to do up to now because of time and because companies haven't been interested.
There are albums I want to do with just musak, orchestrated musak, maybe just a track a side but as much as I want to do that I won't do it with Japan, simply because Japan is a responsibility to me. Every time a Japan LP is released it's got to be something worth listening to."
Following, "Tin Drum," he is looking even more low-key. he's taken to wearing spectacles, and in his casual anoraks looks neat but still languid. With his too-clever-by-half grin, he proclaims:
"My appearance is done basically for myself. It's got less and less important over the years until now. It started when I was young, like everybody else, I was identity searching. But now my dress is totally functional. It feels great now, getting up in the morning and just putting on practical clothes, practical to the way I live, the way I am. I used to always say in interviews that clothes are important, but I suppose I've gone back on that a little; the more your confidence grows the less you rely on clothes."
"A while ago I was getting really hung up about my appearance. But the more time it took up, worrying about it, looking in the mirror, the more I realised that it was completely irrelevant. Instead of, 'working towards,' an appearance I now do the opposite. And it's so pleasing! The music's so much stronger with it!"
Interviewers still find Sylvian's lucid polish unnerving, but some see it simply akin to the gloss on his lips. But it is difficult to rationalise anything about David -- even he is finding it so:
"More recently, in my lyrics and in my life, I've found it harder to put something together that I am totally happy with or to rationalise anything. 'Ghosts,' is the only track on the album that at all comes together musically or lyrically. I find it difficult to put a sentence together, I'm not sure what I'm saying. Each time I say something I'm thinking is that right? Do I mean that? Or is it the first thing that came into my head? A sense of doubt hangs over everything I do nowadays, although my reason for doing things is very strong."
He speaks of his seemingly cloistered lifestyle: "My way of life isn't affected by the social climate I'm living in. All I need is a room to retreat to. Maybe I'm affected by the people though. Maybe...All I need is a room and I could live in any country. I'm not very sociable. It just so happens that my current room is in Kensington."
"I'm really not sure what my role in this society is. Whenever people say oh, you're a performer / artiste / entertainer, none of those seem in the slightest bit true to me. I'm not sure therefore where I stand in peoples eyes, because I rarely ever meet the people...in fact the only time I ever go out and meet people is abroad. I suppose, like everyone else, I take England for granted."
Many read, "Tin Drum," to be Sylvian's statement on socialism, but he likes to keep politics out of his music:
"I've never liked political songs per se. But I have always liked what I'll call, ' open music,' where the listener is left to make his own mind up, put his own clues in, where ultimately it is left up to the listener. It makes for a more personal music -- you literally relate it closer to yourself."
"Not that I want in any sense to be a, 'voice of the year.' I don't think for various reasons anything like that exists any more. My idea is that music isn't for that purpose. It's that simple."