Karn, Akiko Yano, Jansen and Ryuichi Sakamoto.
Fan Library, July 1982. p. 46.
A brief Explanation must be in order for all those either mystified by or grappling with the various Japanese musicians' names mentioned by all the members of Japan.
As David related, the interest in Japanese music started when the band first visited that country and were interviewed by one Riuichi Sakamoto, keyboard player with highly successful Japanese technopop band Yellow Magic Orchestra. The two bands made contact, and from that point onwards maintained a keen interest in each other's exploits.
The development of both groups of musicians has seen some striking parallels, which seem to have been unintentional. Even at the start, YMO and Japan were ahead of their time in their respective countries, both took a while to be taken seriously -- the only difference being that it took YMO less time, and they're now much more successful in commercial terms.
Both bands went through a period of writing introspective, synthesizer-based mood music (YMO's third album, released around the same time as, "Polaroids," was entitled, "BGM," [Background Music]); both were influenced at different times by Eno, Giorgio Moroder, Andy Warhol and Roxy Music. Both have interests outside their respective bands, and come back together to record albums. Both suffer from having individuals that hate touring!
YMO toyed with China by wearing Chinese army uniforms on their second album's cover -- Japan did a similar thing with, "Tin Drum." Both have experimented using traditional elements of Oriental music mixed with electronics. Both suffer from ever-present speculation about, "splits."
What is certain, however, is that Steve Jansen was heavily influenced by YMO drummer Yukihiro Takahashi, and that the artistic relationship between Sakamoto and Sylvian stretches a little further than sympathy with each other's aims -- both are seen as heart-throbs in Japan, but shun the attendant by hysteria.
At present, there exists between Japan and YMO a mutual admiration society which is about to produce some interesting vinyl (see future projects listing on this page).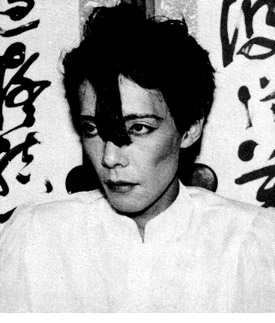 Ippu-Do's Masami Tsuchiya.
Another musician with whom they are working is Akiko Yano, Sakamoto's wife and successful solo artiste in Japan, with seven albums already to her credit. Japan have been a fan of hers ever since one of their fans sent them a tape of her songs, and she is Steve and Mick's favourite songbird.
They are also working with another Japanese band in the forefront of the new wave in Nippon -- namely, Ippu-Do, and their mentor Masami Tsuchiya.
Japan fans can take heart from this, for if the parallel holds firm, the band will certainly not split up. YMO are currently all working on their separate projects, but will definitely come together once more to record and tour. And they are one of the most successful bands of their kind in their own country...