Fan Library: So you had quite a rich musical background before you started playing bass?
Karn: "Yeah, but I can't remember much of it. I wouldn't be able to play those instruments now. I'd like to have a go though."
Fan Library: how did you develop your bass style, what sort of influences?
Karn: "I think practically everyone influenced me bass-wise, every time I listened to a song, I'd be listening to the bass. I always had two guitars, one of them to play at home, without amps, the other to play in rehearsals. The one I had at home, I took all the frets off, so basslines I was making up at home I'd find increasingly difficult to play in rehearsal. So i bought myself a fretless bass. I can't say who influenced me more than anyone else. The one bass player I really admire now is Percy Jones, who plays with Eno a lot, who is my favourite artiste.
Anyway, I think it's a bad thing on certain instruments to learn sequences, scales and what have you. We're all self-taught and I think if you learn scales you can become too independent on the as part of your style. It's art like any other art and it has to be felt."
Fan Library: Do you think a lot of people will be claiming you influenced them?
Karn: "Yes...it surprises me, it really does. It never ceases to. Because the way I play the bass is wrong, technically very wrong. The way I use my hands is no the way I'm supposed to. To this day I don't know what notes I'm playing. I just go on what I hear in my mind. But it sounds right me, and the rest of the band! But for other bassists to turn round and say they like it...I just can't believe it!"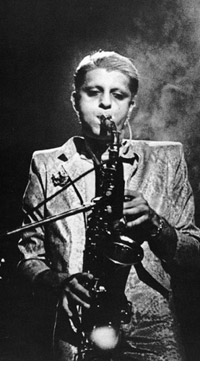 Photo by Virginia Turbett.
Fan Library: Do you think they can tell from the way you play that you're not doing it correctly?
Karn:"I'm sure they can. And I cause a lot of problems in the studio where the notes I'm playing...you can't play them with a certain chord that's underneath, but as I'm one of the first people on record, it means everyone else has to change for me, and I end up feeling very unpopular!"
Fan Library: How has that affected your work with other musicians?
Karn: "Doing sessions with other people is one of the most frightening experiences. Robert Palmer asked me to go over to Paris a few months ago and I did that, but I was so scared. When I'm that scared, doing something new, I like to jump in the deep end and go all the way, so what I like to do when I'm nervous is ask if they'll let me -- warn them first that I won't know what notes to play if they tell me -- go ahead and put the bass down on the track without having heard the track first, and see what happens. That worked pretty well with Gary Numan, he kept the bass I did first time, and it worked with Robert Palmer, but all the other keyboard players had to change to play my notes! But once you do that, it gives you the confidence that you need."
Fan Library: Of course, now Gary Numan's gone and got himself another bassist who sounds just like you!
Karn: "Mmmm, yeah. I actually thought it was me when i heard the track! I couldn't remember doing that one! Actually, it's a real compliment."
Fan Library: I heard you had to change your style when playing with Akiko Yano.
Karn: "Yeah, but it's been really exciting doing it. It's a case of not knowing the notes I have to play, usually, but in this case I had to. I'd come in in the morning thinking right, they're going to love this one, playing to them and then them giving me a chart of all the notes written down, which I can't read, and me having to spend hours in another room working it out! But they seemed happy with it, and I tried to blend the two in the end, so I don't think people will notice it as being me when they hear it. I really enjoyed doing it."
Fan Library: I suppose you can't have your own way all the time.
Karn: "It's much harder, 'cos playing the way I do I find it comes easiest when I'm not thinking about it, or thinking as little as possible, that's why I like doing it straight off in sessions, but in this case I had to think of it, which is a lot harder."
Fan Library: It must've been a shake-up working with people that can write a score in five minutes.
Karn: "It was. And we were working with Masami Tsuchiya before that , and the taught us a lot of Japanese phrases to use with Riuichi -- My Lord, My Sire, give us a break and things like that, in case things got a bit too rough!"
Fan Library: What are you doing apart from sessions -- anything on your own?
Karn: "I'm doing a solo single in a couple of weeks time, but apart from that we're not really sure what we want to do. I'm going to be doing the Robert Palmer album in June, but I've decided I really want to get on with doing this album with Steve now, because we've talked about it so much, we've put it to the back of our minds, got on with everything else and left that to the end, but I think we should do that now. It's something we've wanted to do for ages. It's up to Virgin I suppose. They're all a bit worried though."
Fan Library: They've go this hot property that might never record again...
Karn: "But if we all take things as seriously as they think we do, which we do, then why can't they let us get on with our own individual arts, which is how I see it. It's restricting us."
Fan Library: I was surprised to read your revelations in 'Zigzag' -- why did you decide to come out with it all?
Karn: "I think it surprised a lot of people. Especially Virgin. When I did it, which was two months ago, it would've been great, but by now it's a bit...it's just that there was so much being written , so many questions being asked, it was getting to me really badly, even the fans were getting paranoid. I just wanted the truth to be written once, and once only, so everyone would know.
And of course, then 'The Sun' started saying I'd done interviews with them, which was horrible. But I've read recent interviews with Dave and it seems to me we're feeling exactly the same about things, we're putting pressure on each other on purpose, 'cos neither of us know exactly what we want to do.
We know we want to do something else, and the best way to do that is under pressure, we've always found, so we're putting it on each other, to see who can do it. Although we're very different people, we're always the opposites in the band, but that's the way it always worked with me and Dave, like a catalyst, which we need really. I put it down to that, we're just doing that again to each other."
Fan Library: It's always been like that between you, but you've never talked about it before?
Karn: "No, never really though about it before. This incident that happened is a bit bigger than the other, so it's made us think about it. It's a strange relationship."
Fan Library: It helps to life the mystique a bit. Your individual characters rearely come thoruh because Dave does all the interviews.
Karn: "But he doesn't like it like that, he wants it all to be equal, he wants all of us to be up there. We realised a long time ago, when the band started, that it would be very difficult for people to pick up on five different people's faces. There had to be one person, and slowly, when we think the time's right, we thought let's start pushing up another. So it was me next.
Dave hates doing live gigs anyway, so we decided I would be the front man there. And as we go along we're hoping to bring everyone up into the front. It's a long process."