Fan Library: What sort of people have influenced you?
Barbieri: "Keyboard wise...more recently, mostly traditional musics as far as sound, melody and arrangements go. When I first started out my main influence was Brian Eno, hew was my hero in those days, and I think he's done a lot for African traditional music, and Talking Heads. And also things like Eric Satie...the kind of things we did with, 'Nightporter,' and, 'Despair.' They've been a very strong influence. I can't say I'm influenced by anything that's around today, 'cos we never take enough interest, I think if you take too much interest in what's happening now then you're at a loss really, the more diverse your influences are, the more original the material you come up with."
Fan Library: You like to look outside the boundaries of your own situation?
Barbieri: "Yes, because that's how the whole idea of a fashion comes about -- so many people in the same kind of environment being influence by each other until it all becomes one thing. I think we've been influencing a lot of people lately, I've heard a few things."
Fan Library: Does that surprise you?
Barbieri: "No, it doesn't. I think they're more influenced by individuals in the band -- I don't think anybody had ever sounded like us or has that overall sound, but you can pick out certain parts, especially drums and bass."
Fan Library: Are you working with any Japanese musicians or staying away because all the others are doing so?
Barbieri: "I haven't stayed away on purpose, it's just that way things are being recorded, there's always been a keyboard player there for the purpose, like Riuichi has always played keyboards on Akiko's album, and Masami Tshchiya (of Ippu-Do) had all the keyboards put on before he came over. It's interesting, I popped down to the studios to listen to what they were doing. It's great, 'cos Masami's still keeping all the traditional elements of Japanese music, whereas other people are all going very technical."
Fan Library: Were you involved with David's solo single?
Barbieri: "He asked me to play keyboards, to come in at a later stage, but I refused, not in a bad way, but because I prefer to be involved. I didn't feel it'd be useful for me to add something to the end, and he appreciated that."
Fan Library: Is that the way you like to work -- being involved from the start?
Barbieri: "Even if I'm only playing a small part on it, at least to be involved from the start is essential, so I can feel something, see how things are progressing. To come in totally cold to a situation, start playing, is hard for me to do. I don't think I'd ever be a session player, it'd have to be involvement in a project of some sort. It's too small a part to play. And you can't compare it to the bass and drums because that is the structure of the song."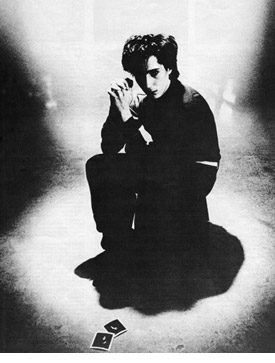 Photo by Fin Costello.
Fan Library: What is it you're doing at the moment with this Swedish band?
Barbieri: "I was asked to produce this band in Sweden, 'cos they were impressed by the sound on, 'Tin Drum,' which we co-produced -- I'd say me and Dave produced more than the others to a certain extent -- and they wanted me to produce their album. I listened to a couple of their LPs, which I wasn't very impressed with, but I thought I'd go over and meet them, talk to them.
And I was quite surprised, I got on really well with them -- and we don't get on well with many people. And the whole situations seemed to me that they were at the same stage as we were after, 'Obscure Alternatives,' they're not exactly pleased with what they've done in the past, they're ready to do something a little more interesting. I think it'll be worthwhile.
Also I'm writing at the moment, and I didn't want to spend months on end just sitting in a room writing, because it's a very lonely and depressing thing to do, so I thought this weld be a good chance to do something creative and have a break as well."
Fan Library: What's the name of the band, is it unpronounceable?!
Barbieri: "It almost is! They're going to change their name if they release the album outside Sweden, but they're already quite popular there. I think they normally sell the equivalent of a silver album, and considering there's more people in London than in the whole of Sweden, that's pretty good. They're called Lustans Lackejar and they're just trying to think of a different name!"
Fan Library: What sort of music are they playing?
Barbieri: "The music they've done in the past is a type of disco, modern disco type music. But after I'd talked to them, it seemed they wanted to do something totally different, more acoustic sounding, which is obviously what we were doing on, 'Tin Drum.' So whether or not it's for the best or worst, I think it's worth trying."